North Sea Icy Palace is the only 6th level map in 9Dragons.
It is a disputed map, meaning that both White and Black Clan disciples can enter it.
North Sea Icy Palace is appropriate for characters from level 121 to level 174 (CS1 - H6),after they go to Tibet.
Points of Interest
Edit
There is an exit to Liaodong near the south-west corner of North Sea Icy Palace
There is also an Exit to "Tibet" from the "Silver Sand Creek"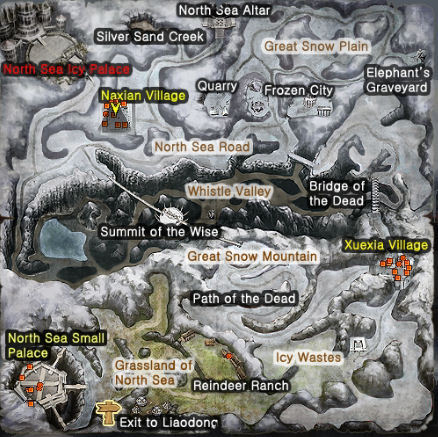 Ad blocker interference detected!
Wikia is a free-to-use site that makes money from advertising. We have a modified experience for viewers using ad blockers

Wikia is not accessible if you've made further modifications. Remove the custom ad blocker rule(s) and the page will load as expected.