This article is a stub. You can help 9dragons Wiki by expanding it.
Dragon Beggar (Nuker of Beggar clan) - Dragon Beggars use Chi or inner spiritual power to enhance their fighting abilities. Although physically weak, they use mind skills to increase their defense or absorb a physical attack. Except 36 steps of whacking dog stuff maneuvers, the most powerful is 18 palms of descending dragons.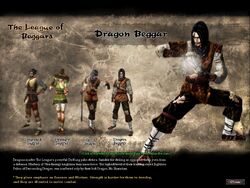 Ad blocker interference detected!
Wikia is a free-to-use site that makes money from advertising. We have a modified experience for viewers using ad blockers

Wikia is not accessible if you've made further modifications. Remove the custom ad blocker rule(s) and the page will load as expected.