Ad blocker interference detected!
Wikia is a free-to-use site that makes money from advertising. We have a modified experience for viewers using ad blockers

Wikia is not accessible if you've made further modifications. Remove the custom ad blocker rule(s) and the page will load as expected.
In this Guide you can check the information on every Boss that you can kill outside a Dungeon.
Shi Zhang/Zhengzhou
Edit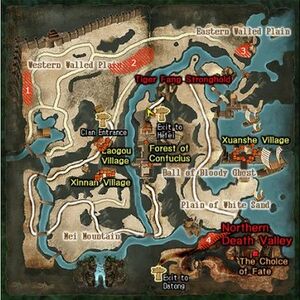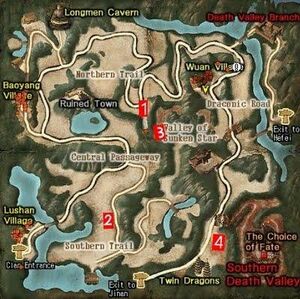 1. White Tiger King
Edit
Level => Raising Light 5 (53)
Attack Style => Melee
Special Moves => Single Target Stun
Last level to kill => Sun and Moon 5 (77)

2. Blood Wolf King
Edit
Level => Raising Light 2 (50)
Attack Style => Melee
Special Moves => Bleed with External Wounds, Paralyze, Area of Effect
Last level to kill => Sun and Moon 2 (74)

3. Jin Long, The Insane Axe
Edit
Level => Raising Light 8 (56)
Attack Style => Melee
Special Moves => None
Last level to kill => Sun and Moon 8 (80)

4. Kong Yesun, The Wild Hands
Edit
Level => Raising Light 12 (60)
Attack Style => Melee, Range
Special Moves => Paralyze, Debuff -20% HP for a set time, Debuff -12% Vital Energy for a set time, Disruptive Nerves, Area of Effect
Last level to kill => Sun and Moon 12 (84)